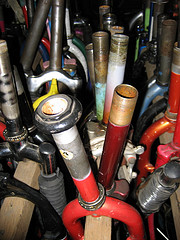 Bicycle Donations are the pillar upon which Free Ride! rests – because without bicycles, where would we be? If you want to see our shop in action or need a reciept for a tax deduction, come in during our open shop hours shown in the sidebar.
If you are not in need of a tax receipt you can bring the bicycles to Construction Junction during their open hours. Click to see their hours.

We accept all kinds of bicycles: cruisers, road, mountain, kids and bmx bikes, but prefer them not to be piles of rust. If the bike has tons of rusty parts and appears beyond repair, it probably is. In this case, bring the bike(s) to a scrap yard, since this is where we are sending them anyway.
For a list of scrapyards in the Pittsburgh area, click here.
We also accept bicycle parts, wheels, accessories, helmets, bike tools and regular tools like screwdrivers, wrenches (metric), ratchets etc.  Old clothing or towels are needed as well for shop rags.
If you have more than 15 adult bikes that you would like to donate we may be able to arrange a pickup.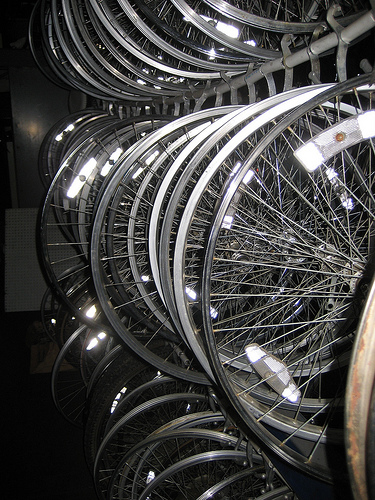 Re-Cycling @ Free Ride!
Free Ride attempts to recycle as much as we can.
It's impossible to re-use everything, so we work with other businesses and non-profits to keep this stuff out of a landfill.
Thank you, from the FR community!