Sunday Series Classes
Basic Bike Mechanics Classes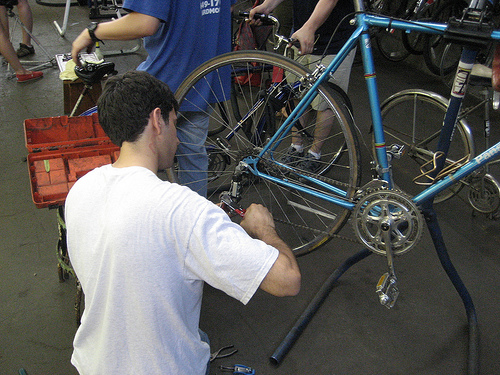 We offer a beginner's Adult Basic Bike Mechanics class on Sunday afternoons and evenings. Here's a description of the course: The course is six weeks, giving each student 12 hours of class time.
Week 1 - Tubes, Tires and Flats (April 27th)
In this intro to the course we will discuss tube and tire selection and sizing, and have a thorough exercise in patching a flat.
Week 2 - Hubs and Bearings  (May 4th)
An introduction to cup and cone bearing systems.  We will disassemble, clean and reassemble the hub of a wheel.
Week 3 - Wheel Truing (May 11th)
How to prepare your wheel and make spoke nipple adjustment to make a lateral true and straighten the rim of your wheel.
Week 4 - The Drivetrain  (May 18th)
Learn how to remove, clean and fit a chain, how to remove freewheels and cassette and replace a chainring.
Week 5 - Brakes, Cables and Housings  (May 25th)
Learn how to replace your cables and housings and how to make the basic adjustments to make your brakes work better.
Week 6 - Derailleurs  (June 1st)
Demystify one of the more complex components of your bicycle by learning its basic adjustments.
If you are interested in a single class see our
Drop-In Classes
Classes are Sunday from 3:30pm to 5:30pm or 6pm to 8pm.  Choose which works best for you. Cost is $100 for all 6 classes.
Register for Adult Basic Bike Mechanics Class
Class size is limited; it is first-come, first-serve.  The first 10 people signed up after the registration has started will be guaranteed a spot in class. After this point, others may be moved to a different series class (or can have the charge refunded). You may
volunteer
10 hours to pay for the series of 6 classes. When using volunteer hours, at least 8 must be completed
before
registering for the series, and the remaining hours must be completed before the series finishes. Email classes at freeridepgh dot org to find out more if you are interested in this option. The course is designed to give students the basic knowledge that they need to move onto more complex repairs and systems. Since each class follows in a logical succession, it is recommended that you attend every class.  Bring yourself, a willingness to learn, and a pen and paper if you want to take notes. You may also bring in your own bicycle to work on (it's a good chance to tune it up), but your bicycle must be similar to the course material (simply ask the instructor). Questions? Can't pay online? Email us: classes at freeridepgh dot org .