Sunday Series Classes
Bike Mechanics Classes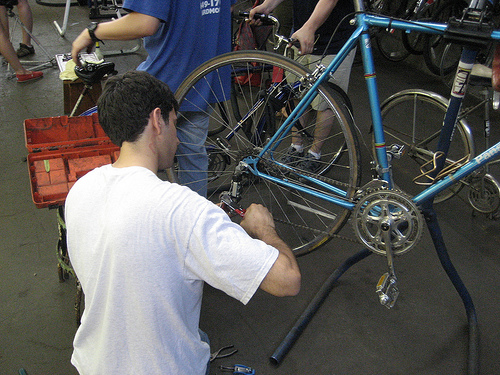 We offer a beginner's Adult Basic Bike Mechanics class on Sunday evenings.
Here's a description of the course:
The course is six weeks, giving each student 12 hours of class time.
Week 1 – Tubes, tires and flats
In this intro to the course we will discuss tube and tire selection and sizing, and have a thorough exercise in patching a flat.
Week 2 – Hubs and bearings
An introduction to cup and cone bearing systems.  We will disassemble, clean and reassemble the hub of a wheel.
Week 3 – Wheel truing
How to prepare your wheel and make spoke nipple adjustment to make a lateral true and straighten the rim of your wheel.
Week 4 – The Drivetrain

Learn how to remove, clean and fit a chain, how to remove freewheels and cassette and replace a chainring.
Week 5 – Brakes, cables and housings
Learn how to replace your cables and housings and how to make the basic adjustments to make your brakes work better.
Week 6 – Derailleurs
Demystify one of the more complex components of your bicycle by learning its basic adjustments.
If you are interested in a single class see our Drop-In Classes
Cost is $75 for all 6 classes.
Volunteering 12 hours can be done to pay for the series of 6 classes. When using volunteer hours, at least 8 must be completed before registering for the series and the remaining hours must be completed before the series finishes.
Email classes@bike-pgh.org to find out more if you are interested in this option.