Volunteer Benefits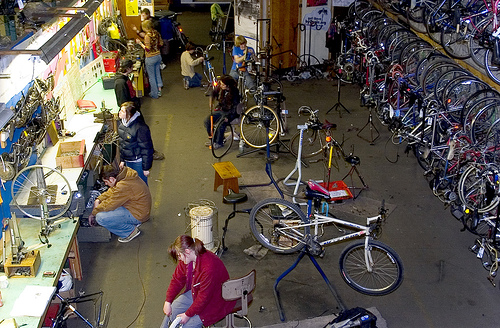 Volunteering is fun and offers many benefits.
Become a Bike Pittsburgh Member by Volunteering!
Volunteer hours can be applied towards membership with Pittsburgh's bicycle advocacy organization Bike Pittsburgh! Bike Pittsburgh asks that you volunteer 5 hours at Free Ride for a yearly individual membership. You will need to renew your membership annually, and you can also renew by volunteering. (Note: you apply your volunteer hours towards only one thing at a time, such as membership, or earning a bike in our Earn-A-Bike program.) Ask a staffer if you'd like to trade your volunteer hours for a BikePGH membership, and we'll get you hooked up!
Earn parts to repair your bike
Used parts are available during open shop for you to replace any worn out or damaged bike components. In return for using these parts, we ask for a donation of either cash or volunteer time.
Collective Membership
There are many benefits and multiple levels of collective membership. The main requirement for membership is volunteer time. Learn more about joining the collective