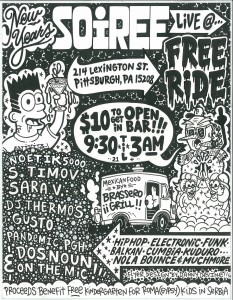 It's that time of year again… DJ Sara Vicious & crew are taking over the shop NYE. $10 cover, doors 9:30, 21 & over event. Benefits Roma preschool.
Public notice on facebook
Some details about the charity:
I've been living in Serbia for the past year and in July a group of friends and I started a free preschool project at a local squatted Social Center and art space in Belgrade, Serbia for Gypsy children of a near by settlement. The first month we did it only 3 times a week and in September we started doing it everyday. The main person behind this is someone who lived and worked in a similar project in the biggest Roma settlement in the world, in Macedonia.

We are all volunteering many hours of our day and week to not only teach the children but to plan the lessons. We don't our own space, we share it with an infoshop/library space and we would like to fix up a room in the squat to make it our own preschool, fully equipped with little chairs and tables, good materials and most of all we want it to be well insulated for future winters. It's important to us that we have our space that we can make as functional and welcoming to the children as possible, a safe and fun space for learning.

Many of these children live in really shitty conditions and they spend most of their time with other children, in the streets or their settlement, or working with their parents. School doesn't start until they are 7 years old and many don't get to learn Serbian very well until then which sets them back in school.

So we are hoping to raise funds to buy the materials we need to make our space a reality. […] this is a DIY project much like Free Ride, that is on an all-volunteer basis and receives no official funding or support. We hope to remain a strong DIY collective working horizontally, and we hope to be stable presence for the children and their families.
Further details (in serbian)