Here are 3 ways to get your bike to us:
Drop off during open shop: We currently take bikes when we have open shop. Here are our hours and location. Our shop can be accessed by entering at the corner of Thomas Blvd. and N. Lexington Ave.
Drop off to Construction Junction: Construction Junction has generously placed bins for Free Ride donations in their facility. Simply drop off your bike related donation at the Construction Junction drop off and they will get it to us. https://cjreuse.org/hours/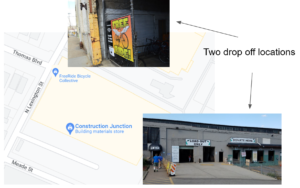 Try to arrange a pick up: Send us an email at info@freeridepgh.org  and we will try to come pick it up. This isn't the best method because we're all volunteer based. Sometimes we have someone with a pickup vehicle, sometimes we don't.
We accept:
all working adult & kids bikes

road, mountain, hybrid, gravel bikes,  balance bikes, unicycles, and recumbents!

bikes that need some sort of mechanical repair

this includes non-rideable bikes that we can deconstruct for parts or educational purposes!

bicycle parts

wheels, chains, pedals, derailleurs, seats, brakes, stems, seat posts, forks, etc.

accessories

water bottles, mirrors, jerseys, trailers, etc.

bike shop supports

tools, old towels, rags, cleaning supplies, bike stands, etc.
*Keeping all the parts together is so helpful to being able to use the component, accessory and bike
*Adding a note of any known issues or missing parts is appreciated.
Monetary Donations
Your donation will go towards helping fund the expenses that Free Ride incurs as well as buying new bike parts and tools.
All donations are tax-deductible, as we are recognized by the IRS as a non-profit organization.
You may use  to make a donation and support Free Ride today! 
CLICK TO DONATE